KUBOTA U17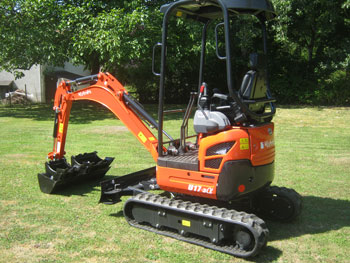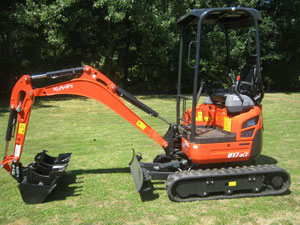 This Kubota U17 is ideal for use in tight spaces. It has two speed tracking to move quickly between work areas. It has a quick hitch fitted for ease and speed for bucket changing, an adjustable track width, 990 – 1240mm and a canopy (not a cabin). This is a highly reliable Mini Digger for a wide range of jobs big or small.
BRIEF SPECIFICATION
DIMENSIONS
Width: 990 – 1240 mm (adjustable tracking)
Height: 2340 mm
Weight: 1700 kg
CAPABILITY
Digging Depth: 2310 mm
Reach: 3900 mm
Loading Height: 2440 mm
Buckets Available: 30 cm, 45 cm, 90 cm
HIRE RATES: 110€ p/day HT
Please call about long term rates
Gravel, Sand & Top Soil
We can supply and deliver sand, gravel and top soil. Please click here to see the area covered.
We are here to help
We also provide our diggers outside of the areas described below, please contact us for collection and delivery rates in your area. On our pages you will find detailed specifications of our products for hire, and links for more detailed technical information on our Mini Diggers / Excavators.
Too busy to browse our site? Need to hire a Mini Digger in a hurry? Just call 06 07 97 07 16 and we will do our best to help!